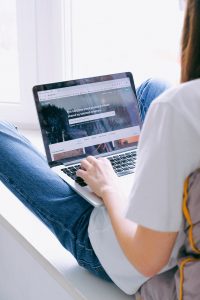 A decade ago, the thought of working from any location was not an option for many of us. However, now that a large part of the world's population has gained access to the Internet, working from any location has become a trend. In recent years a large number of people have been making a living by offering online services. Companies have also started hiring service providers who can work from remote locations in order to save on setup costs. Following are some popular ways to work from a remote location.
Copywriter
If you know a language, your knowledge can make it possible for you to earn big money working online. For instance, native Chinese, German or English speakers can easily make a good income writing articles and other promotional material for businesses and individuals. As a copywriter, you will always have the option of writing on subjects you are passionate about. For instance, if you love traveling, you can earn handsome amounts by writing travelogues. If you like internet marketing, you could write ad copy or sales promotions for other entrepreneurs and businesses.
Search Engine Optimization
Imagine this, if a search engine can't find you, then no matter how good it is, your hard work won't matter. It's important to be well-versed with the basics of SEO if you want to become a successful online service provider. Take that a little further, and as you gain knowledge and experience, entrepreneurs, companies and businesses will want to hire you to get their websites ranked higher on search engine result pages (SERPs). One caveat though, excelling as an SEO expert requires that you keep yourself updated with all the changes taking place in Google algorithms.
Virtual Assistant
The term "Virtual Assistant" is extremely broad. Basically, it involves leveraging other people's time to help build a business. To become an ideal virtual assistant, you will literally have to be "a jack of all trades." Some of the jobs of virtual assistants include reading and answering emails, carrying out data entry work, answering and making phone calls and video calls, updating websites, etc. To be someone's virtual assistant does not require you to be by his or her side. Through the internet, the job can easily be done from almost any remote location.
Social media marketing
Most businesses rely on social media platforms for reaching their targeted audiences. This makes it mandatory for them to keep their Facebook, Twitter, Instagram, and Pinterest accounts up to date with interesting facts and attractive images. However, for most business owners, the job of updating their social media accounts can be be a big headache. As a consequence, they usually turn to young and enthusiastic social networking geniuses who can take over their official Twitter accounts and Facebook fan pages to keep them up to date with fresh facts and figures about the company.
Web designer
Do you think web designing is something not everyone can do? You're partially right. However, it's also true that it's not very difficult to learn the basics. If you put in some time and effort, you would need just a few weeks to learn how to build websites in WordPress. That skill would be enough to get website designing jobs from small businesses on a regular basis. The upside is, using predesigned templates eliminates the need to become the finest designer one would ever see.
Graphic Designer
If you are creative this is probably the best remote job for you. However, remember that graphic designing requires you to have in-depth knowledge of certain software. This includes Photoshop, Illustrator, InDesign, CorelDraw, etc. It's not possible to learn to operate these programs in a few weeks. You will need to invest a significant amount of time and effort to become expert with this software.
Software programming
Like graphic designing, learning software programming is not an easy job. A good suggestion would be to take on programming projects only if you have the right kind of training. Having a degree in software engineering would make it easier for you to become an online software programmer. This is, in fact, one of the highest paying jobs you can do from anywhere.
Teach or Coach online
The past few years have seen a rise in online teaching and coaching. These skills have grown to be among some of the more lucrative remote occupations. The best thing about teaching and coaching is that they would present you with an opportunity no matter what you studied in college, or learned as an entrepreneur. You might be a doctor, an engineer, or studied English or Mathematics as your major in college, or you might be a successful internet marketer with unique skills you could pass on in a coaching program. Becoming an online teacher or coach could be a great career option for you.
Affiliate Marketing
Affiliate marketing has two sides. One is offering products and services from other people or businesses to potential buyers (affiliate). To become a successful affiliate, you would first need to generate a significant amount of traffic toward your own sites. Also, having SEO knowledge would be a big plus. Another method, one highly recommended, would entail creating your own product or service for others to sell for you (vendor). So, as an affiliate marketer, you can be the marketer or creator of a product or service and through the concept of revenue sharing you will earn a profit.
It's up to you which of the two options to choose, or you can do both. The one thing you must need to keep in mind though, is that whatever the product or service you are offering, you must be as honest and hardworking as you would've been when working in an office. Do this, and you can earn big money by working from any location.
I hope you enjoyed this post. By taking inspiration from these tips you too can have an independent lifestyle that will allow you to work from any location.
Want to learn more? Join John Thornhill, a former factory worker now a million dollar marketer as he reveals his proven system for building your own successful online business.
Click Here To Get Started. 
If you like this post, feel free to leave a comment below.